Raza Khadim will be a father in September.
His wife is expecting a boy.
It's one reason why he's thankful to be here, in Hamilton, starting a new life with her some 13,000 kilometres from his war-torn homeland, Afghanistan.
"So my boy, I'm mainly thinking about him, about his life.
"I'm happy to be here in this country. He will have a good life, he will have a good education.
"Most of all, he will be born in a country where there's no war, no fighting, no guns, no terrorists.
"I'm happy for that. He will have a good future."
Mr Khadim is one of 18 Afghan interpreters who were officially welcomed to Hamilton at Kirikiriroa Marae yesterday.
They risked their lives serving alongside the Provincial Reconstruction Team in Bamiyan for 10 years.
"We wish we could have stayed there and we could help our people, but unfortunately our lives were considered to be very [much] in danger.
"Still, if we ever get a chance to go back to Afghanistan and serve our people I'm sure every single one of us would like to."
Mr Khadim, a small man by New Zealand standards, was chosen to represent the interpreters and their families during yesterday's powhiri.
Maori warriors performed haka and laid down the traditional challenge to the new arrivals.
Mr Khadim calmly leaned down to pick up the teka (peace offering) before leading his fellow countrymen and women onto the marae.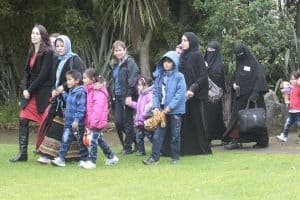 "I was a bit scared because it was my first time," he said.
"This much respect, this much honour, this much welcome we have never seen. It's been great."
There are 54 new residents in total; new neighbours, new friends, future work and schoolmates.
The ceremony was followed by lunch, a mix of eastern and Kiwi cuisine – curry and rice, kumara and chicken nibbles.
The interpreters were then each awarded two military medals usually reserved for New Zealanders – the Operational Service Medal and the General Service Medal Afghanistan.
"We will not forget this day, this warm welcome, everything you have done," Mr Khadim said.
He was now looking forward to settling down and "starting our new life, finding a job".
Last night, Mr Khadim opened the door to his new home where he will live with his family.
"Haere mai," the kaumatua at the marae told him. "Welcome to Hamilton," said others.
"It's a beautiful city, nice people," Mr Khadim said.
"So we're sure that we will have a good life here."
Source: Stuff News