Thirty Afghan interpreters and their families were welcomed to their new home in New Zealand this afternoon with a very Kiwi spread of tea and egg sandwiches.
A total of 94 Afghan men, women and children arrived at the Whenuapai Air Force base in Auckland.
The interpreters expressed their gratitude to New Zealand for its work in Afghanistan and sympathy to those who lost family.
"Thank you to New Zealand people for helping the Bamiyan people in Afghanistan," said Parmiz Hakimi, 28.
"I would like to pass my deepest condolences to all those people who lost their loved ones in Afghanistan, we lost our brothers and sisters there too."
The opportunity for their children to grow up in New Zealand was the most exciting part of the relocation said Hakimi, who has three daughters aged, five, three and three months.
"We are very happy," he said.
"We were a little bit sad leaving our family and friends in Afghanistan, but our children will have a great future, they will not be worried about getting blown up by suicide bombers."
In October the government offered all interpreters who worked with New Zealand forces after December 2010 a relocation package. The interpreters could either choose to move to New Zealand or take a three year salary to relocate within Afghanistan.
The interpreters had played a vital role in New Zealand's presence in Afghanistan, said Immigration Minister Michael Woodhouse.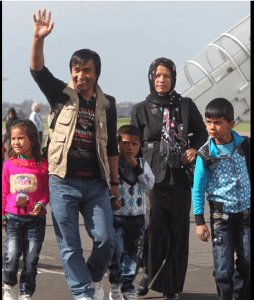 "I am delighted to welcome them and their families to start their new life in New Zealand," he said.
"The resettlement offer reflected the Government's view that we should demonstrate a duty of care to personnel who risked their lives to help New Zealanders."
The new arrivals will spend eight weeks at the Mangere Refugee centre where they will learn about life in New Zealand.
They will then be relocated to Hamilton and Palmerston North where they will be supported by the Red Cross.
"There is a strong and collaborative refugee community in Hamilton, and Palmerston North has an army base nearby and many of those interpreters have strong friendships with some of those soldiers who served," Woodhouse said.
The interpreters and their families are not refugees and will not form part of New Zealand's 750-person refugee quota.
"They are a special case," Woodhouse said.
"They are not refugees under the UNHCR criteria so I have had to exercise my discretion … and authorise their residence."
Source: Stuff News