Six years after arriving in New Zealand, three Afghan refugees have been recognised for their work with the New Zealand Defence Force.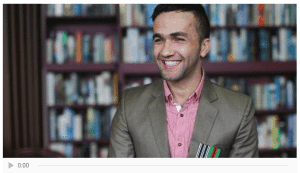 Abdul Satar Hussaini​, Diamond Kazimi​ and Abdul Azim Kazimi​ were awarded with the New Zealand General Service Medal and the Operational Service Medal for working as interpreters with the NZ Defence Force in Afghanistan's Bamiyan province.
They were among the first Afghans to translate the local dialect into English and interpret the cultural differences.
While the second intake of interpreters were honoured with medals and refugee status in 2013, these men have watched as their colleagues were able to participate in Anzac Day parades and apply to bring their families here.
Hamilton East MP David Bennett says it wasn't fair that, because of a technicality, they had to watch others be honoured for the same work.
"In some ways, their risk was greater. They came in at the start, when it was unknown," Bennett says.
Bennett, who was accompanied by Hamilton West MP Tim Macindoe, said it took a year to get the medals.
"It's a good day."
Signing up to work was easy, the three Afghans all say.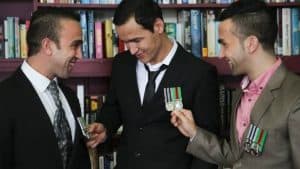 "We wanted to help bring peace," Diamond Kazimi says.
"We didn't think some of our people wouldn't like us working with foreigners."
Not only did they risk their own lives, they have also put their families at risk.
Abdul Hussaini is in New Zealand by himself. He didn't want to talk on camera because he still fears for the safety of his family back in Afghanistan.
He talks to them at least once a week, but dares not visit.
"I know as long as I'm not with them, they are safe."
But he has no regrets.
"I wanted to help get rid of the bad guys, the terrorists."
Ironically, travelling on an Afghanistan passport means he is often treated as a terrorist at airports.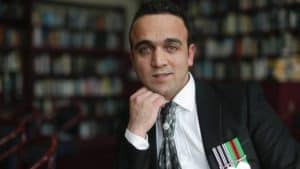 But it's not just their family's security the three risked.
Diamond Kazimi saw a friend blown up in front of him. Abdul Kazimi saw Afghan soldiers shot dead and Abdul Hussaini was at the Kiwi base in Bamiyan when it nearly got hit by rockets.
Abdul Kazimi cried as he watched the men die.
"I couldn't control myself," he laments.
He still has moments of fear.
"Whenever someone opens up a door very hard, I always look up to see who is coming. Or when I hear the shots that explode into the sky … fireworks."
Diamond Kazimi was a child when he started work for the Kiwis.
But he is 22 now and in his final year of a law degree at Waikato University.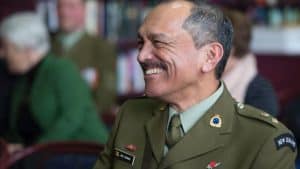 "It was maybe 2006, 2007 or 2008 when I started. I was quite young."
In the mornings, he would go to school; in the afternoon, he would act as an interpreter.
Diamond picked up extra work during the school holidays.
The pay was good, he says.
"It wasn't about the money. I was fighting for peace."
Their New Zealand commander in Afghanistan, Lieutenant Colonel Syd Dewes, was present for the ceremony.
It would have been impossible to do his job without them, he says, but acknowledges there was a sacrifice.
"I know some of their family members were subject to pressure," Dewes says.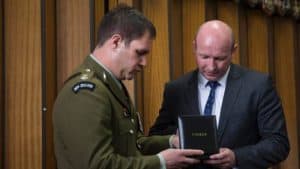 "It's not unusual."
While Dewes wouldn't expand on what the pressure was, he did say, that "they have come to us very concerned for the well-being for their families."
It was good their courage could be acknowledged, he says.
"It's a special job they did for us."
Source: Stuff news