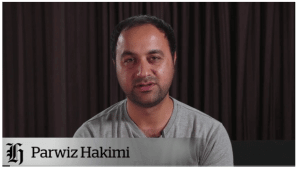 Former interpreters for the NZ Defence Force in Afghanistan have spoken of the opportunities life in New Zealand offers and the work done with our troops in the war-torn country.
Parwiz Hakimi, Raza Khadim and Sayed Hussaini, who now live in Hamilton, said they believed New Zealand's effort as a Provincial Reconstruction Team in Bamiyan had made a significant difference to the lives of those who lived there.
Hakimi, who worked with NZDF from 2005 until the PRT finished in 2013, moved to NZ with his wife and two daughters shortly after the mission finished.
"It's a great opportunity and future for my kids. I know they will try their best to get a good education and do their best to become good doctors or lawyers in the future and pay back to the New Zealand Government and people."
He said there were "big challenges" moving to New Zealand with their wives not speaking English.
The first couple of years there was a culture shock with family members being unable to communicate or drive, he said.
Hakimi said his family loved the beach with frequent visits to Mt Maunganui.
"Even during the winter [my daughters] play in the sand and go swimming."
He said NZDF personnel had forged a genuine connection with local people while building bridges, schools and health clinics.
"New Zealand troops were one of the best role models of troops in Afghanistan"
Khadim said the role he had with NZDF were a "milestone" and "the best years of my life" for not only his family but what he had learned and done to contribute in Bamiyan.
"The only way to tell what we like about New Zealand is if we compare Afghanistan with New Zealand – not all of it but part of it.
"Let's start with walking for miles to get a bucket of water to drink. Compare that to the tap inside the kitchen. Let's compare walking for hours just to go to a school that did not have a roof – just the walls around it.
"Comparing those things to what we – not us, maybe our children – are getting in this country is what we love about New Zealand. It's the bright future and the secure future of our children – that's what we love about New Zealand.
Khadim said separation from extended family was difficult and even strong support from the New Zealand community "did not fill that space".
Hussaini said language barriers and homesickness were a common issue among interpreters' families.
For all that, he said the families were "so happy living in New Zealand, especially the good future for the children".
"There are other challenges living here – jobs, education. We are trying hard to find a better way to have a living and not be on the shoulder of government, which some families are still.
"Most of us have found jobs to try and help not be on the shoulder of Kiwi people and to make a better country for our futures."
New Zealand spent 10 years in Bamiyan province but has never reviewed the way the mission operated, the Herald revealed this week. The only review ever done was "shelved" at draft stage by a senior commander who had led one six-month mission after he deemed it "insufficiently accurate".
Source: NZ Herald