The transformation in Ajmal Ahmadi is stunning. When we first met the former interpreter for the New Zealand army two years ago, he was quiet and withdrawn, desperately missing his family and plainly suffering the effects of post traumatic stress disorder.
It's like a cloud has lifted – he can't stop smiling and he laughs a lot. He works full-time and thinks of the future, and all because the Government had a change of heart and allowed Ahmadi's family in Afghanistan to join him here after five long years apart.
His parents and four siblings arrived in February and have quickly started building a new life – learning English, playing soccer, going for walks in Hamilton Gardens – all the things we take for granted but were denied them by the Taliban.
Ahmadi, 29, was one of 44 interpreters allowed into New Zealand under a special Cabinet deal. Not technically refugees, they had some rights other refugees enjoyed, such as immediate access to student loans and benefits, and only spouses and children could come with them. For Ahmadi, who is single, that meant he was stranded here with no family support.
But after heavy lobbying by the Returned Services Association, Hamilton lawyer Jane Walker, and a campaign by Stuff, Immigration Minister Michael Woodhouse changed his mind and ruled the interpreters would be covered by the refugee family support category – meaning those without family here could apply to bring them in immediately.
For Ahmadi, his family couldn't come soon enough. He couldn't hold down a job because of the PTSD he was suffering as a result of being severely injured by the roadside bomb which killed Lieutenant Tim O'Donnell.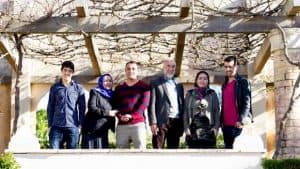 Back in Bamiyan province, his family members were confined to their home because of the deteriorating security situation – a couple of times they received telephoned threats from insurgents who were aware Ahmadi had worked for the coalition.
"Especially as I was far away from my son and the security was really bad. We weren't safe – daily people getting killed. We are lucky we make our way to New Zealand."
Afzal and his wife, Zerkai, and their children Popal, 23, Elai, 23, Salih, 18, and Romal, 15, left under the cover of darkess to avoid insurgents.
"It's really hard if they would take the local bus, they would be stopped by Taliban…that's why they took a plane from Bamiyan to Kabul," Ahmadi says.
"I told them not to tell anyone and they just booked the plane and left."
His parents and oldest siblings are studying English at Wintec, while Salih and Romal are enrolled at Hamilton Boys' High School.
"I'm very happy to be continuing my education," says Popal.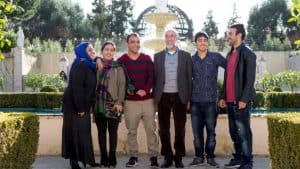 Ahmadi is working as a labourer for a construction company and his health has improved dramatically.
"It's hard to forget that time, but I've changed a lot since my family got here."
The only problem they have is finding a big enough house. "We've been trying to find a house for the last three months and can't find any," Ahmadi says. They are on a Housing NZ waiting list.
He has a girlfriend back in Afghanistan and if the security situation improves, he hopes to go back and marry her.
"Hopefully I could bring her here too. It's time to start my own family."
He feels grateful for the opportunity his family's been given.
"I would like to thank the people of New Zealand, the Government and everyone who's helped my family to build a new life, and to have a safe life, here in New Zealand. I'm really happy."
Source: Stuff news